Stencil: Your Crafting Hub
Designed to make crafts calm, cool, and collected.
The Problem
Crafting is a form of stress relief, community building and fun! But, for many people the information overload hits and causes them to stop. We are trying to find a way to access and consolidate information that relates to their craft in a clear way that keeps track of their personal progress/research.
The Solution
The main goal of Stencil is to allow people an easy, consolidated way to craft. Stencil provides an experience that people want to use while crafting, and encourages them to keep up a craft without insinuating any guilt.
Role:
Sole UX/UI Designer
Tools:
Figma, Miro, InVision, Adobe Illustrator, Adobe Photoshop
Timeline:
January 2022 - March 2022
Secondary Research
I tried to learn more about information overload and what makes picking up a new interest stressful. I found that there is a reason why people want to get away from their phones and social media - it can just be overwhelming. Having so much information come at you at once can make it hard to focus and will stifle creativity, which in turn makes a hobby difficult to pickup.
Primary Research
Objective
Discover how to simplify the process of picking up a new craft, tracking personal progress all while reducing information overload surrounding the resources for learning about new skills.
Research Questions
Are people willing and able to stick to a craft hobby even within a busy lifestyle?

What motivates and inspires someone to take up learning a new hobby?

How long do people typically stay interested in a craft/hobby?

Do people care about progress in a craft and if so, do they need to be reminded about it?
Participant Characteristics
Has a desire to explore their creativity

Is looking to pick up or relearn a craft hobby

Might have trouble focusing when they are learning something new

Are interested in how a hobby positively impacts lifestyle and mental health

Utilizes a wide variety of resources when learning about a new topic, hobby or skill

Susceptible to information overload
Conclusions
A couple of key points I learned about were barriers to entry when it comes to crafting - this involved cost of starting, accessibility to free patterns and ideas, and too much information. A lot of my participants talked about having a mentor or someone to guide you through a craft. They also talked about having straightforward instructions as a way to get started. They found that these things might help them better stick with or start a craft.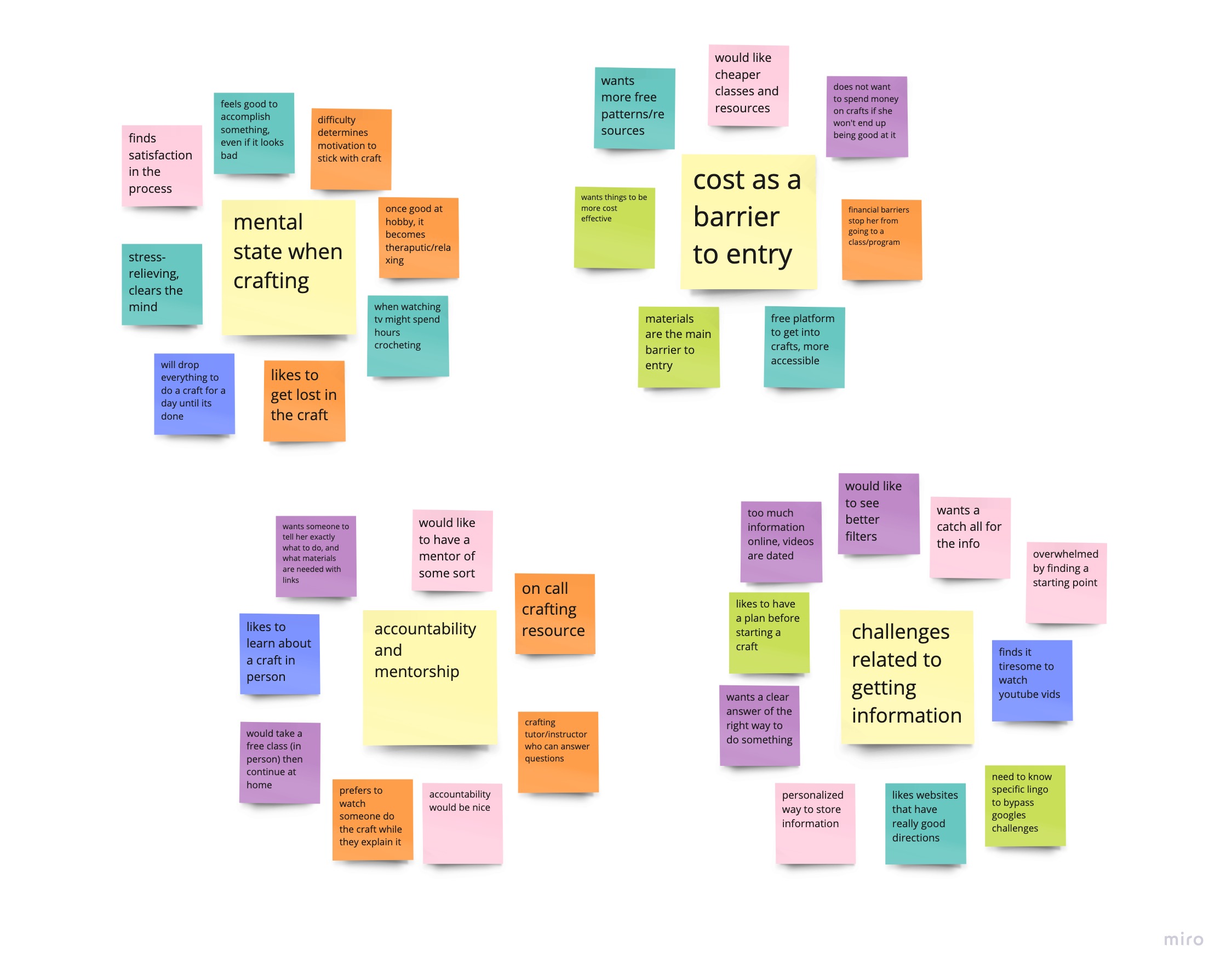 Affinity Mapping
I was able to generate 158 sticky notes abstracted from interviews. After narrowing these down into different categories shown here, and I created three empathy maps.
Empathy Mapping
I derived three unique types of users from my affinity map stickies. The stress-relief crafter who is looking for an escape, The newbie crafter who wants to learn, and the collaborative crafter who wants to share resources, learn from mentors and connect.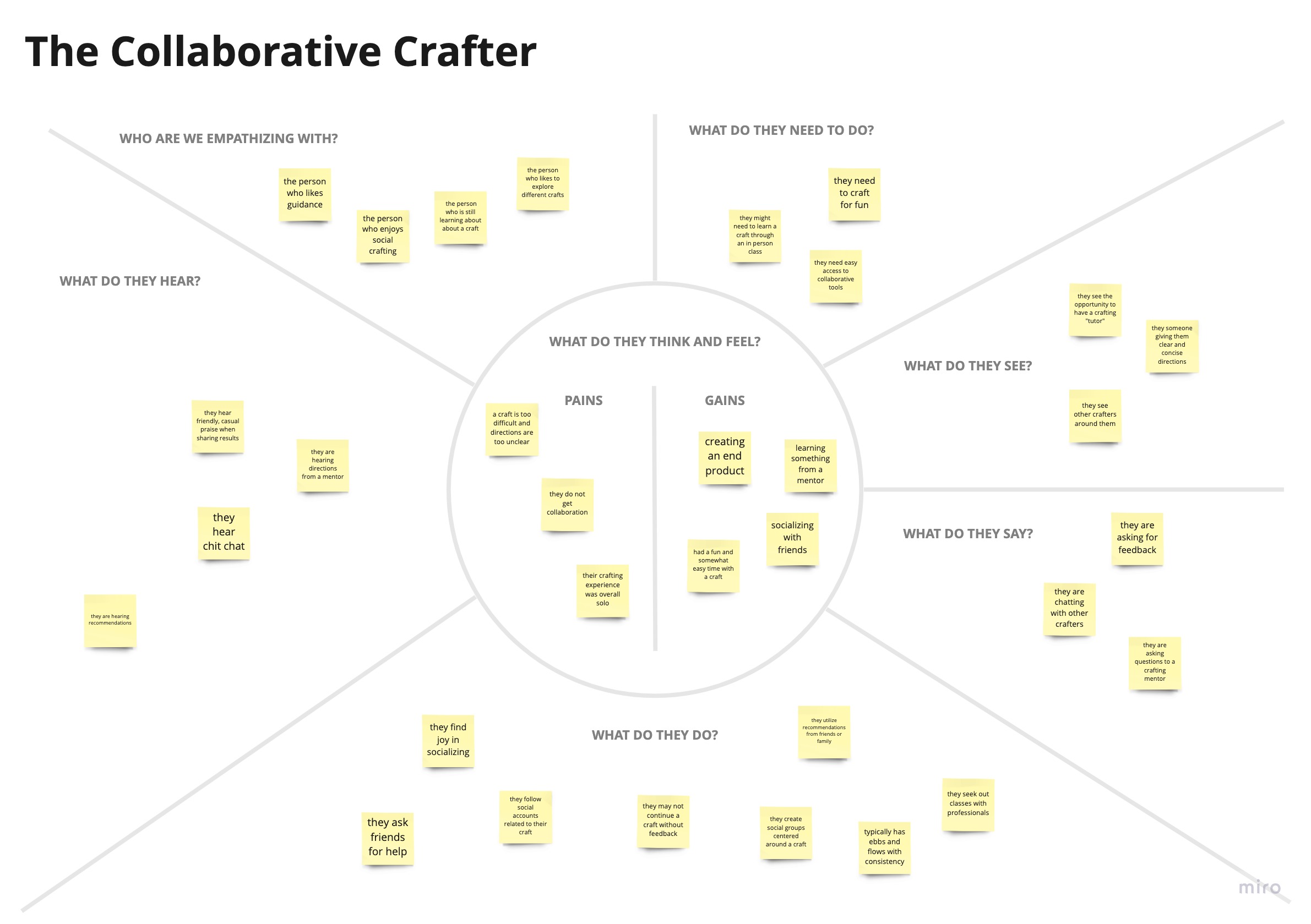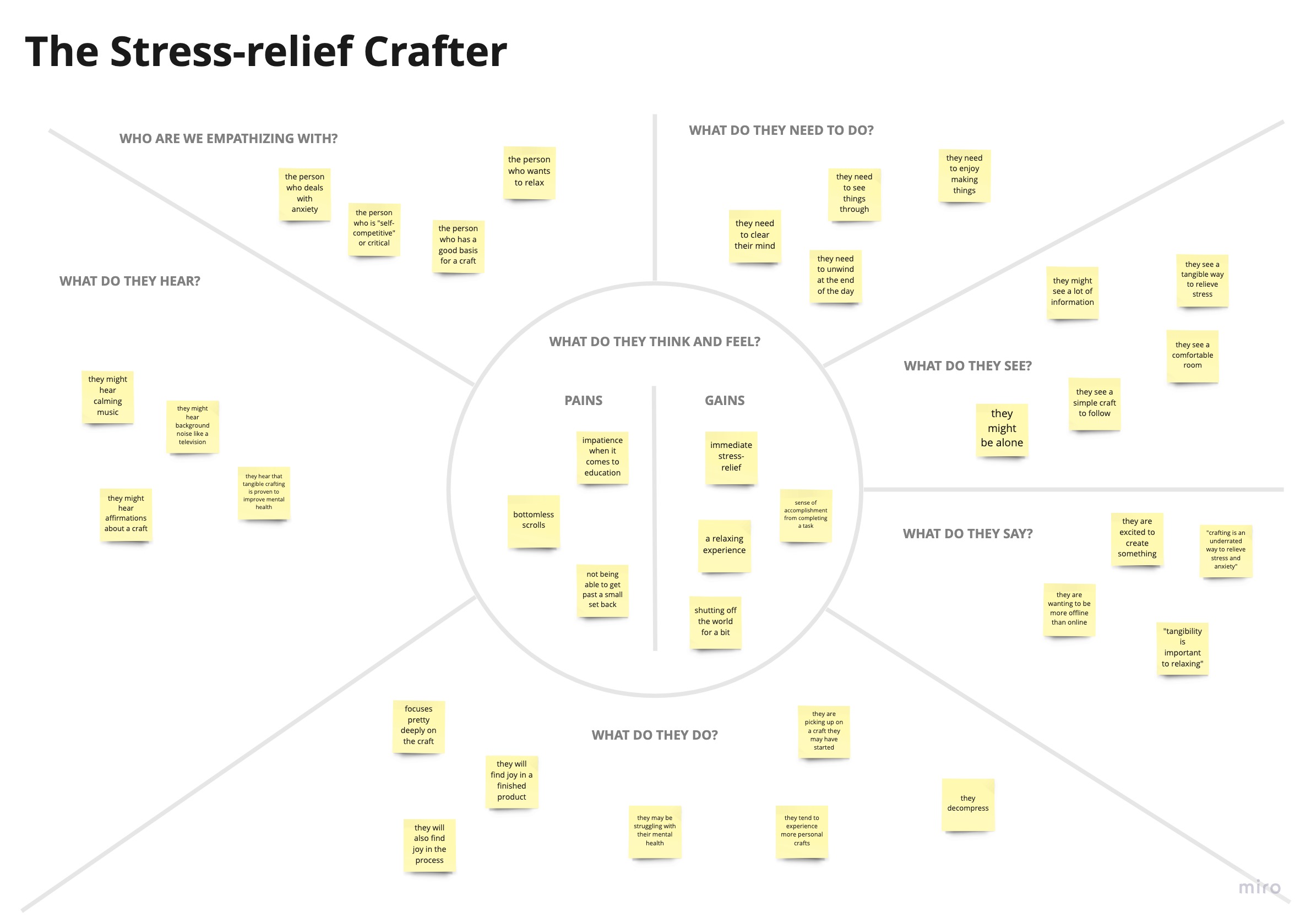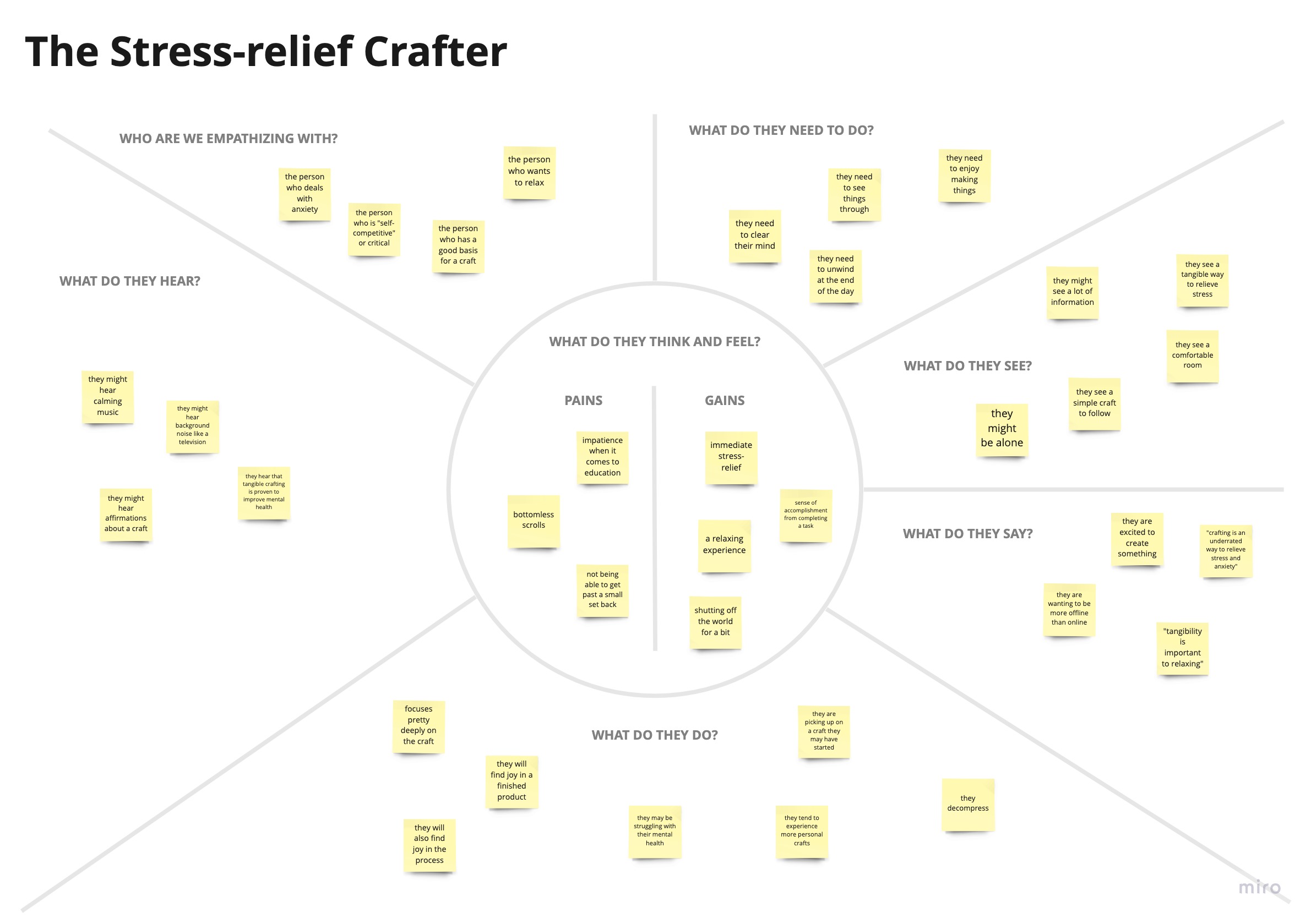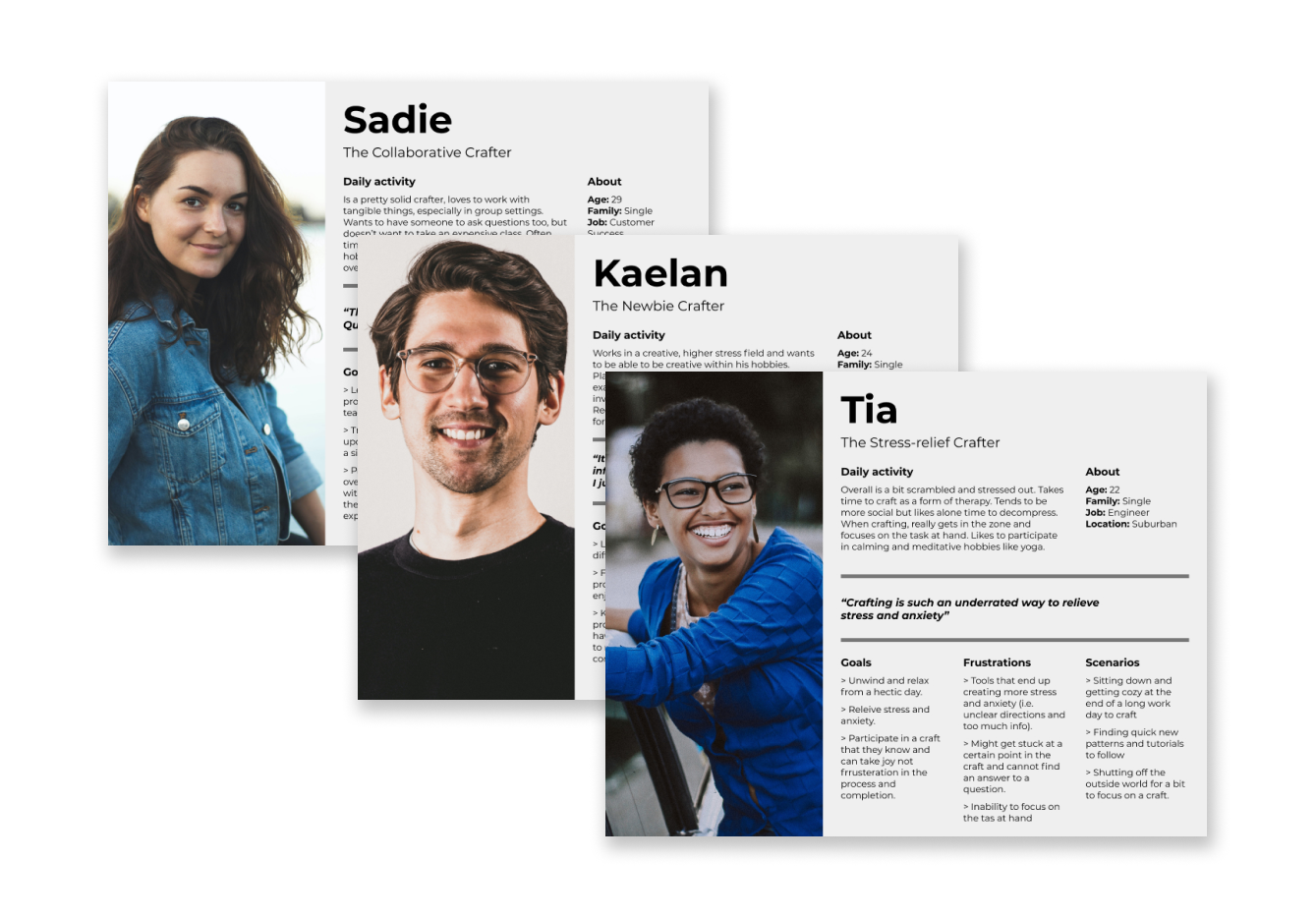 Personas
From my empathy maps, I created three personas:
Sadie - the collaborative crafter (social, wants to share crafting with friends, likes mentorship when it comes to crafting)
Kaelen - the newbie crafter (dipping his toes in, wants to learn the basics, overwhelmed by too much information)
Tia - the stress-relief crafter (crafts as a form of anxiety and stress relief, crafting is good for mental health, wants to zone out when crafting)
How Might We's
HMW allow users to explore collaboration in their crafting?

HMW relieve users of the stress of too much information?

HMW remove the difficulty of following unclear directions when making a craft?

HMW encourage users to track resources and personal progress?

HMW encourage users through their crafting process?

HMW give users a fun, easygoing introduction to crafting?
User Stories
The user stories allowed me to empathize more with my users. I sorted the user stories using the MVP method in order to figure out what my priorities are as the designer.
High Priorities:
As a user, I want to scroll through free resources so that I can utilize them.

As a social crafter, I want to connect to other crafters in the area so that I can get feedback and share my work.

As a user, I want to read clear directions so that I can complete a craft without getting confused.

As a stressed-out crafter, I want to read one page at a time so that I can focus on the task.

As a user, I want to sign up so that I can track my crafting progress and notes.

As a new crafter, I want to see someone else make mistakes so that I can feel okay about making mistakes.

As a user, I want to store notes and instructions that I like so that I can revisit them later.
Sitemap
I created a site map to organize the information required for my app. I started first by thinking about what my user's main needs were and focused on building out the rest of the sitemap around that. I learned how to prioritize and structure information to allow for the lowest cognitive load.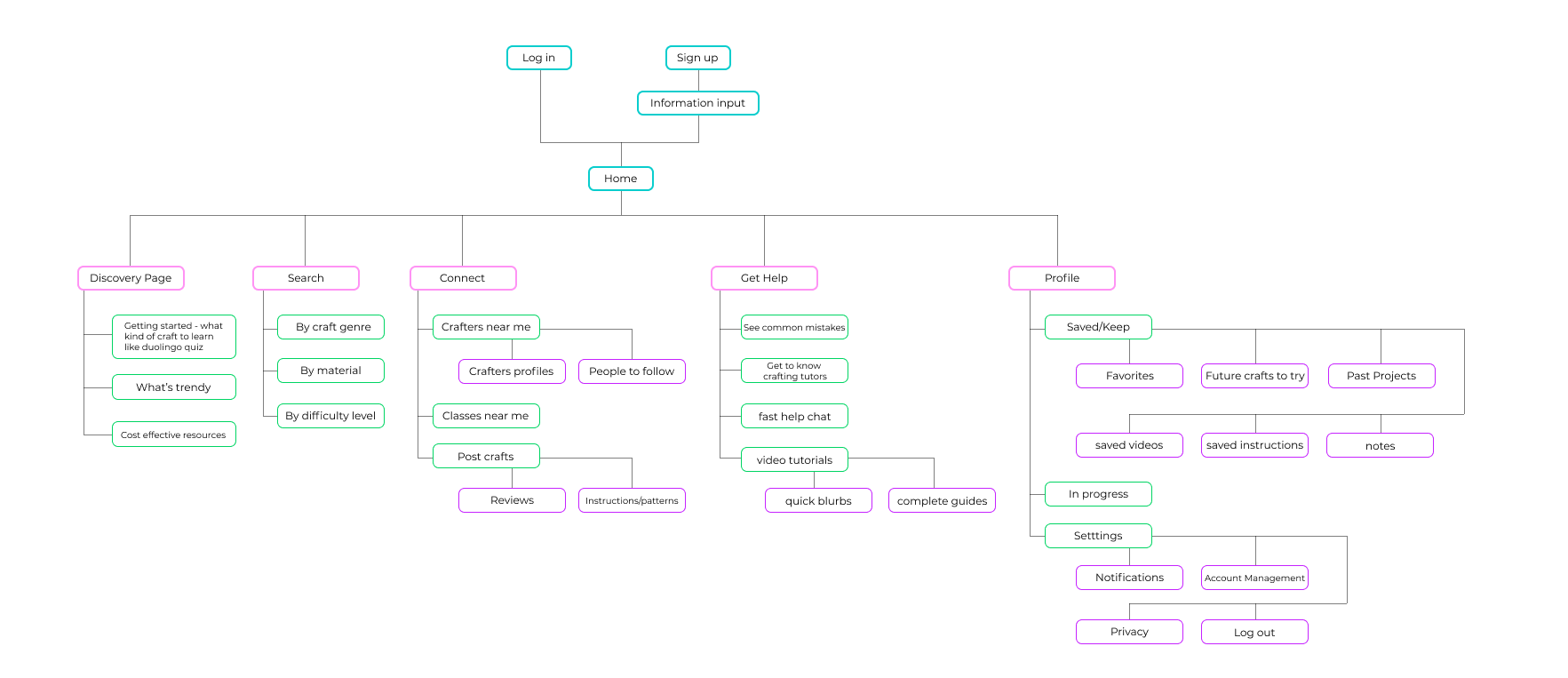 User Journey
For my user flows, I took the information from my sitemap and empathy maps to figure out three main red routes to design. I focused on my users needs and wants.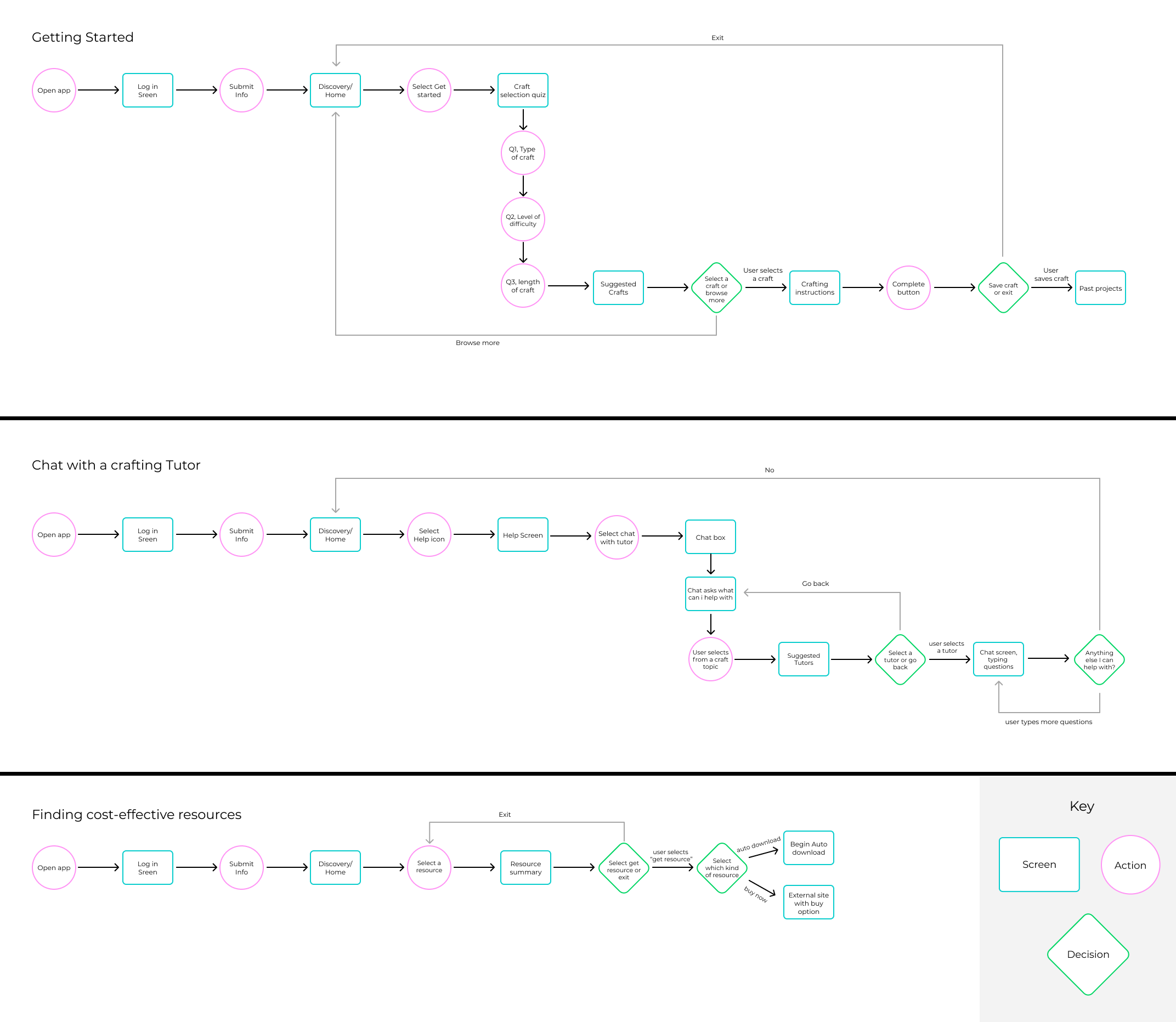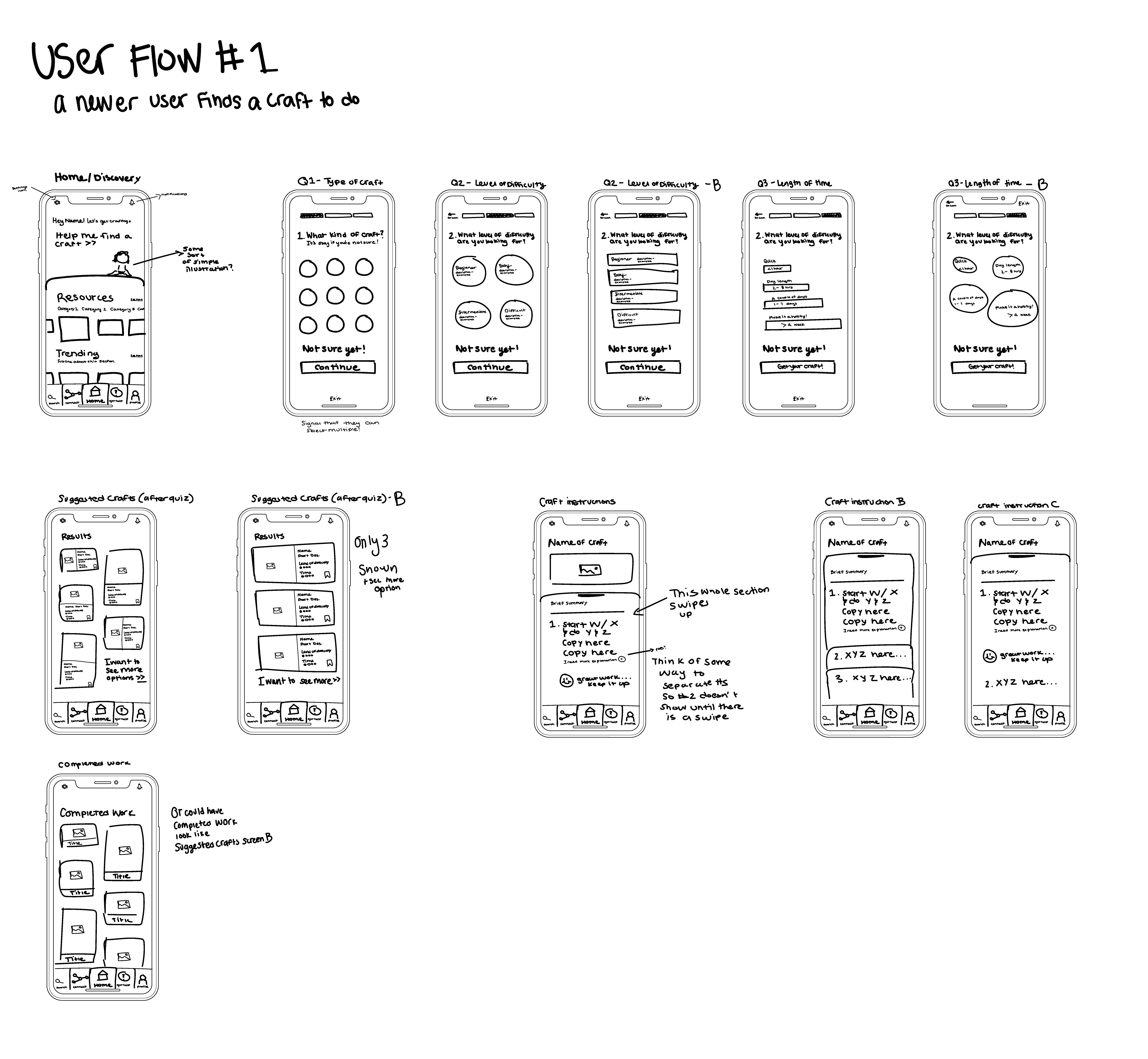 Sketches
After sketching quickly by hand and establishing red routes, I began to develop more ideas and user flows. I learned that some of my initial ideas were not in line with user needs and goals, so I iterated after that and kept going. Sketching allowed me to quickly generate new ideas as I realized certain things would not work.
Wireframes
I took my sketches and started out wireframing. I learned a few things about keeping it simple and what works best on a smaller mobile screen. Throughout the wireframe process, I kept my user's needs at the forefront and made sure to keep it simple, stupid.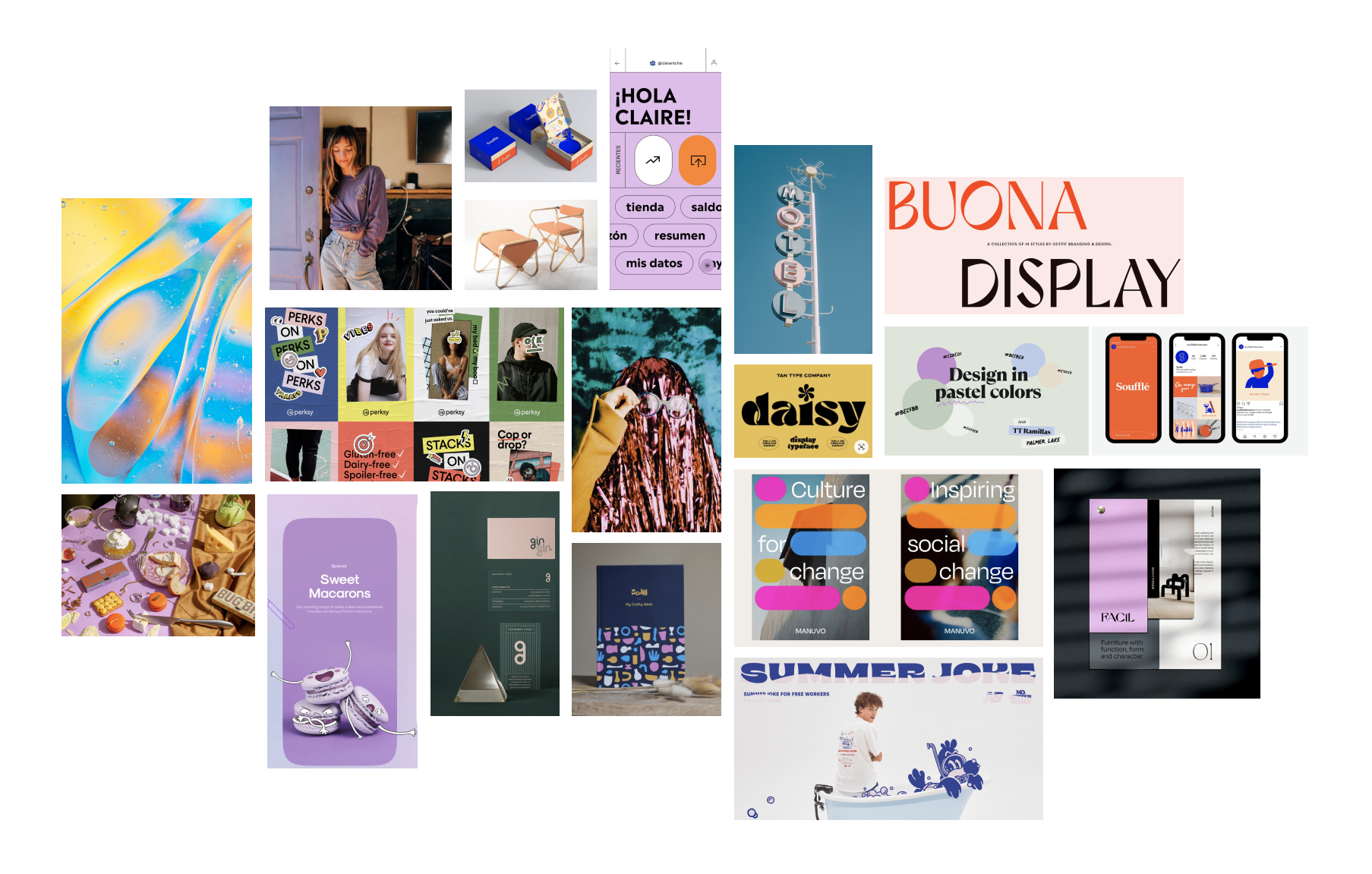 Brand Platform and Moodboard
A stencil is something you often use for certain crafts, whether it be a pattern, or literal stencil! It acts as a guide for a craft, just like the app does for its users. Stencil's branding is bright and fun, while keeping things approachable and encouraging. Stencil is expressive, intuitive, quirky, positive, trendy, bold.
The mood board is an extension of the brand platform, and an exploratory tool. I started by looking on free stock sites and gathering images from there. I focused on a mood rather than the concept of the image. After gathering these images, I started looking at other UI examples and gathering inspiration from there.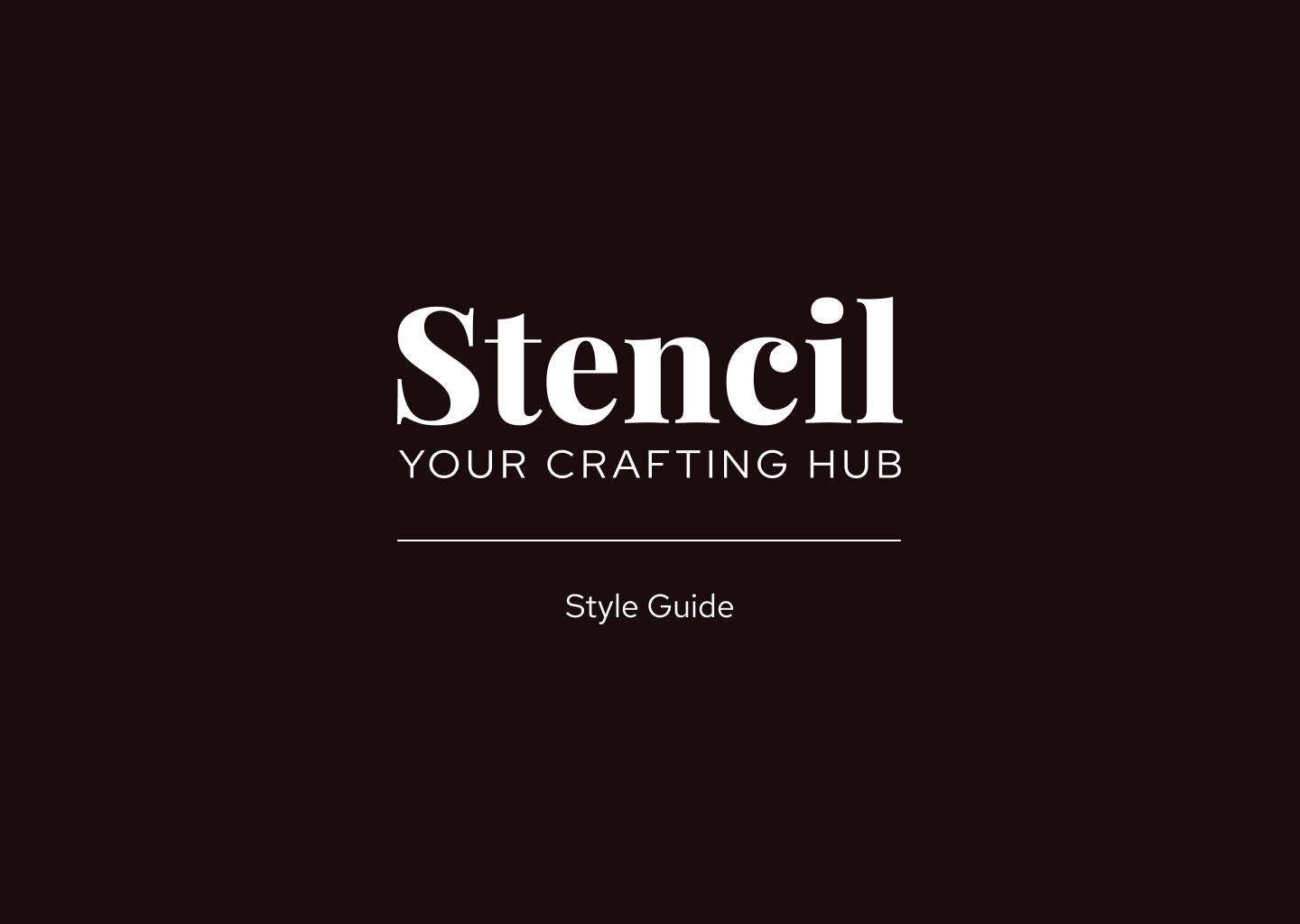 Style Guide
Stencil's style guide is based off of the brand platform and inspired by the overall look of the moodboard. I kept things fun, yet calm. It's a modern, warm, and feels somewhat nostalgic.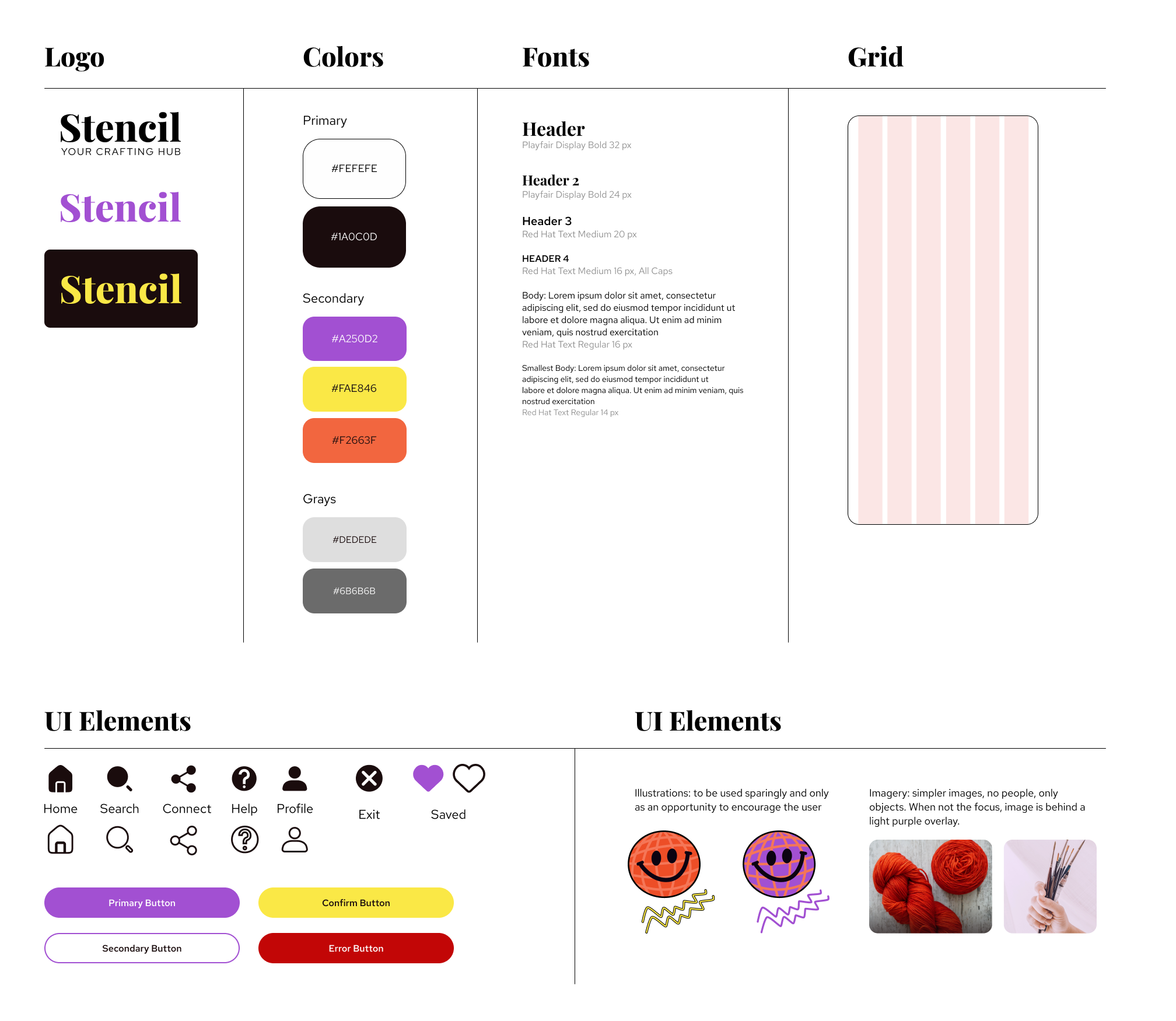 High Fidelity Screens
After developing a branding system, it was time to apply it to the low fidelity wireframes. The key here was to keep things simple and bright. I used a lot of white space so that user's had time to rest their eyes and weren't overwhelmed by anything. Illustrations, copy and imagery also guide the user along through the app.
User Flow #1
In this flow the user goes through the craft discover quiz. They end up selecting a craft and completing it.
User Flow #2
The user goes through the chat feature with a crafting tutor.
User Flow #3
You can write here as much as you want, this text will always look nice, whether you write longer paragraphs or just a few words. Click here and try it out.
High Fidelity Prototype
Once the high fidelity screens were in a good place, I built out a prototype for usability testing. I worked in inVision for this prototype.
Objective
Understand how users will find new ways to craft

Uncovering any usability issues in red routes

See what users think of initial UI

Discover where users tend to click most

Discover what users think about connection features
Tasks
As a new crafter, find a new watercolor craft to do.

Get advice on a specific question relating to a craft.

Find a low cost resource to use for watercoloring.
Participant Characteristics
Newer to crafting

Has difficulty finding one thing to focus on

Interested in learning more about crafting as a mental health tool

Cares about learning a craft more than just getting it done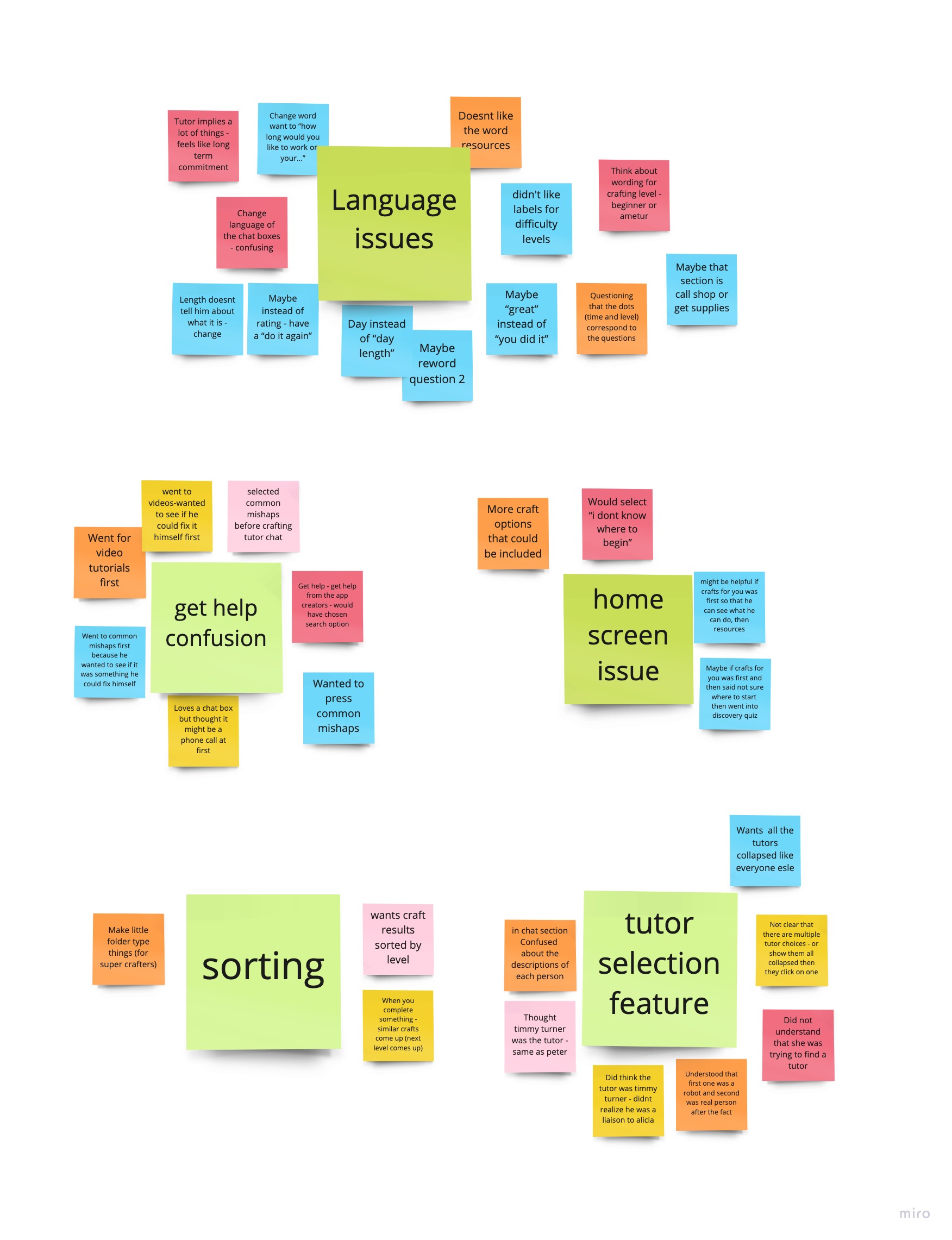 Test Results
There were 3 main issues found in the usability testing.
Issue #1
The main issue was about the language used on the app. The copy overall seemed to cause the most confusion among users.
Issue #2
Every user was confused about selecting a tutor, and whether or not Timmy turner was a tutor or not. Part of the issues was the lack of screens involved and the language used in the chat.
Issue #3
Users seemed to be a little confused by resources right away. When given the task to find a craft to start they went for resources first quickly realizing that it was a shopping section. They wanted to understand right away that there were craft options for them to choose.
Redesign
Usability testing helped me come up with some redesign recommendations to improve the overall experience and UI.
Recommendations for Issue #1 - Confusion because of Copy
Change resources to "shop supplies"

Add prices to the resources section so that it suggests shopping.

Adjust labels of difficulty level in the quiz, rework most of quiz

Reconsider "ratings" and suggestions in completed crafts

Comb through with a fine tooth comb and specify as much copy as possible.
Recommendations for Issue #2 - Tutor Selection
Clarify copy in the chat box and add a description about chatting with a liaison

Add in a screen before the tutor description is open to demonstrate that they can select from tutors

Expand chat so that people get an actual answer (should help better understand the concept)
Recommendations for Issue #3 - Confusion about Resources
Bump up crafts for you

Change wording on resources