Babson Diagnostics
Simplifying user experiences for a blood testing diagnostics company
Overview
Babson is a healthcare company specializing in blood testing and diagnostics. Their aim with XDS is to improve both B2B and B2C experiences on their website by enhancing how clinicians and patients interact with their platform. The project initially focused on lead generation and a floating, sticky CTA to gather user sign-ups for news about Babson. As the project progressed, they expanded their scope to improve various sections of the website, including the footer and navigation experiences. Their goal was to provide more informative content while maintaining user-friendliness, as the current website needed to go from too high-level, particularly for B2B interactions, to a simplistic and easier to understand. Additionally, they aimed to ensure ADA compliance throughout the site to accommodate all users. Live site coming soon.
Role:
UX/UI Designer
Tools:
Adobe XD, Figma, InVision, Adobe Illustrator, Adobe Photoshop
Creative Direction and Collaboration:
Tiffany Brynn, Mike Kabok, Sara Hoover
Sitemap and Content Organization
Through stakeholder interviews, XDS was able to determine a few key points that Babson wanted to focus on in this redesign. At top of mind was to thoughtfully consider how clinicians interact with the site versus how patients interact with it. We also wanted to ensure that we highlighted their newest product Betterway, their upcoming patient-first blood testing product.
For the content organization, we made some larger tweaks along with smaller tweaks to ensure that both Healthcare professionals and patients were able to navigate smoothly throughout different sections of the website. The "about us" section was fleshed out with an aim to increase visibility on careers. We also highlighted Babson's work culture and efforts to promote inclusivity.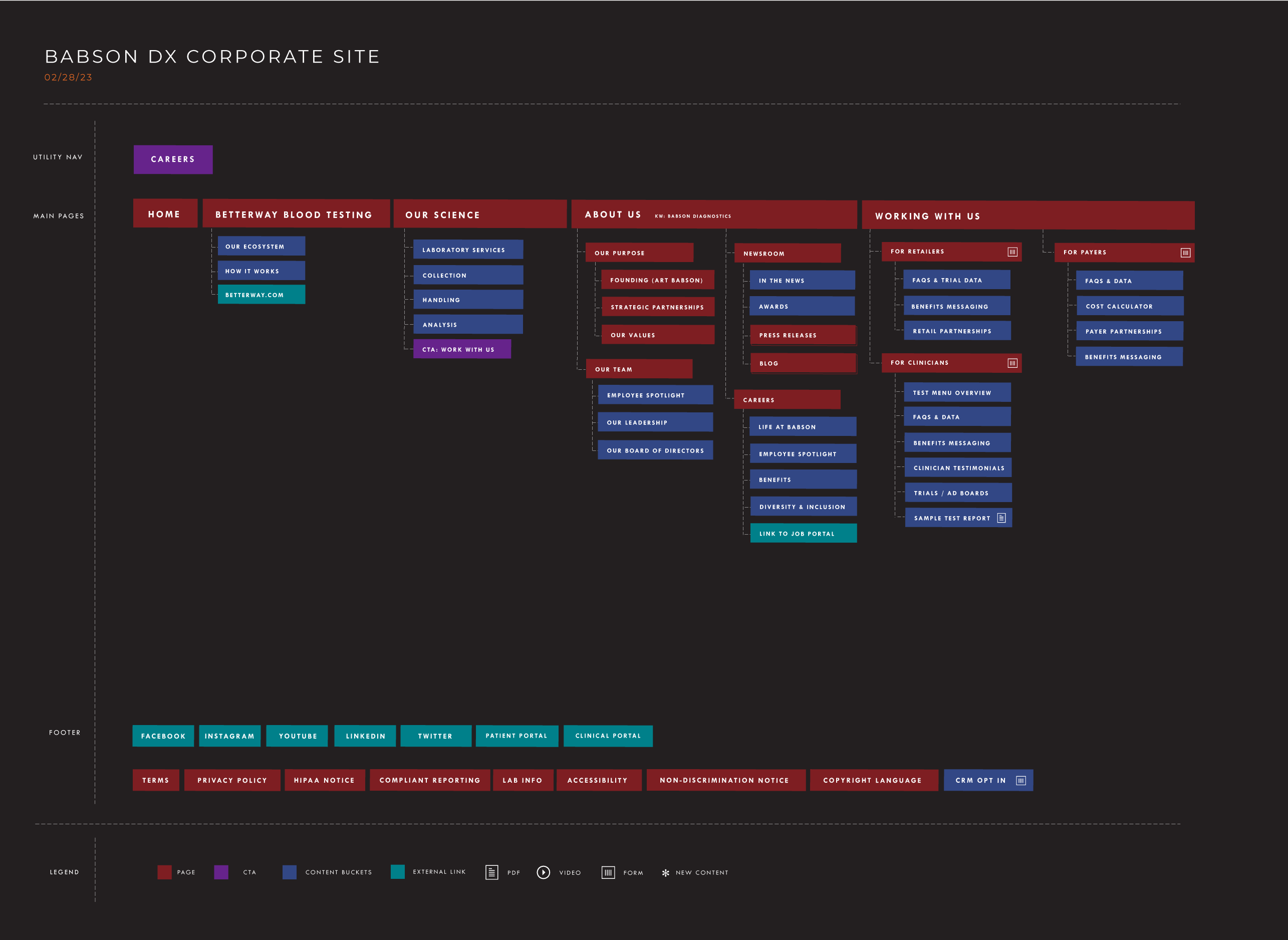 Experience goals
The first goal of the website was to establish a trusted resource for healthcare professionals and consumers. Keeping the audiences in mind was important in the UX process as it would guide what content to include and what key conversion points to drive users too. The primary content path was for providers wanting their patients to be diagnostic compliant. We divided the "Working with us" section out to drive users to their respective paths. Expanding the "About us" section allowed for the secondary audience members to connect with the brand while still maintaining a strong ethos that physicians could relate too. Ultimately simplifying everything was Babson's main goal.

Wireframes
We took these content goals and created easy to use flows in the low fidelity wire-framing process. On the homepage, we added in quick calls-to-action for each group that Babson was working with helped simplify the user flows. We also made sure to include lots of imagery and straight-forward modules. It was really important to highlight the most relevant information while maintaining that simplicity.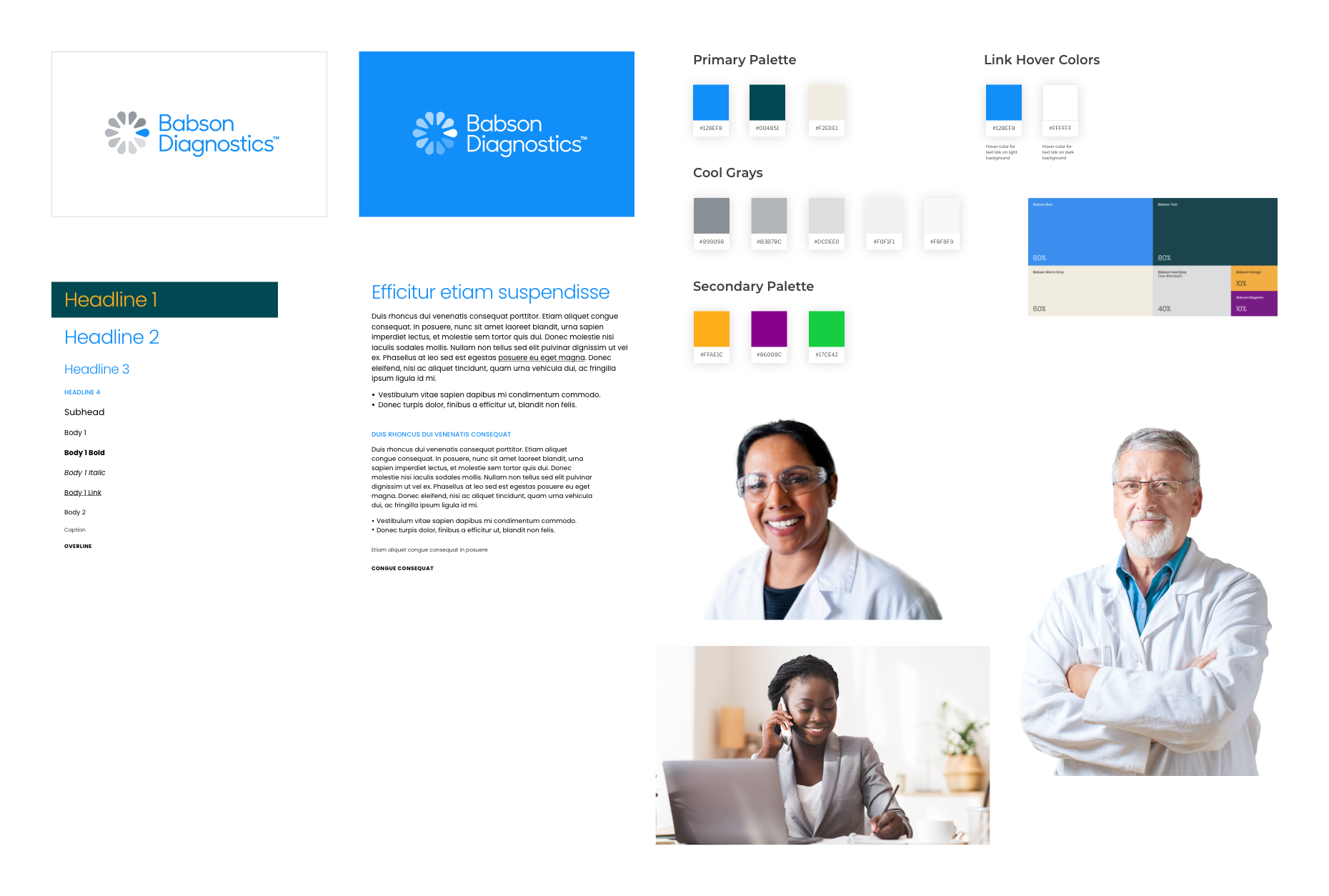 Look and Feel
We wanted to make sure that the tone of the website matched Babson's goals of simplicity and trust. Our design approach aimed to strike a balance between credibility, uniqueness, understanding the journey, and thought leadership around the importance of blood testing. Babson had a brand guide somewhat set up, but the team expanded upon that and also ensured that we were moving the brand guide towards ADA and WCAG compliance. We utilized familiar, full screen imagery, bright backgrounds and carefully placed design elements to create that bright trusting look.